Savage invites Oskar Offermann
Red Cube
22.30 – 00.30 // Teodora Van Context
00.30 – 03.30 // Oskar Offermann
More Rice Showcase
Anteroom
22.00 – 04.00 // Feelz B2B Millhouse (all night long)
Red Cube
23.00 – 01.00 // Elaheh
01.00 – 03.00 // Sarayu
03.00 – 05.00 // DOTT
Thursday Night 1
Anteroom

22.00 – 00.00 // Zwi
00.00 – 01.30 // Anh Vy
01.30 – 03.00 // Feelz

Planet 303 x Savage with Kosh (Live)
// Anteroom
10.00 – 01.00 // Steve Obi
01.00 – 04.00 // Khoi Mai
Red Cube
22:00 – 23:30 // Min8 B2B Xuxi
23:30 – 00:30 // Zwi
00:30 – 02:30 // Kosh (Live)
02:30 – 04:00 Useph B2B Cong
Savage Night
Red Cube
10.00 – 00.30 // Cong
00.30 – 02.30 // Peter Van Hoesen
02.30 04.30 // Di Linh
Thursday Night 2
Anteroom
00.15 – 02.00 // Myle
02.00 04.00  // Hocking
Red Cube
11.00 – 01.00 // Ouissam
01.00 – 03.00 // Dignos
03.00 – 05.00// Ligrye
Savage invites Xiaolin
Red Cube
22.00 – 01.00 // TaoFu
01.00 – 03.00 // Xiaolin
Snug X Peach
Anteroom
10.00 – 01.00 // JustHilda
01.00 – 04.00 // Jesse You
Red Cube
10.30 – 01.00 // Manikk
01.00 – 03.00 // VAIBS
03.00 – 05.00// TMDDJ
Savage Anniversary (Night 1)
Anteroom
10.00 – 01.00 // JustHilda
01.00 – 04.00 // Jesse You
Red Cube
10.30 – 01.00 // Manikk
01.00 – 03.00 // VAIBS
03.00 – 05.00 // TMDDJ
Savage Anniversary (Night 2)
Anteroom
22.00 – 00.00 // TaoFu
00.00 – 02.00 // Park:ING
02.00 – 04.00 // Cong B2B Khoi Mai
Red Cube
22.00 – 00.30 // DOTT
00.30 – 02.30 // Mr Ho
02.30 – 04.30 // Zhiqi

Savage Anniversary (Night 3)
POOL
16.30 – 18.30 // JustHilda
18.30 – 20.30 // Ouissam
20.30 – 22.30 // Srugs B2B Nomoclassiq
Anterooom
22.00 – 00.00 // Zwi
00.00 – 02.00 // Telephones
02.00 – 05.00 // Emel Rowe B2B Saint Guel
Red Cube
22.00 – 01.00 // SAM Futura.
01.00 – 03.00 // Gonno
03.00 – 05.30 // Di linh + (After by Manikk)
Thursday Night 3
Anteroom
22.00 – 00.00 // HDMI
00.00 – 01.30 // dmb
01:30 – 03.00 // huygnut
Savage invites Merve
Red Cube
22.30 – 00.30 // AiLien
01.00 – 02.30 // Merve
02.30 – 04.30 // Kavan Spruyt
METRØ Night
Anteroom
22:00 – 01:00 // Zwi
01:00-04:00 // Anh Vy 
Red Cube
22:30 – 01:00 // Shandon
01:00-03:00 // Lourene
03:00- END // Jakrin & Payu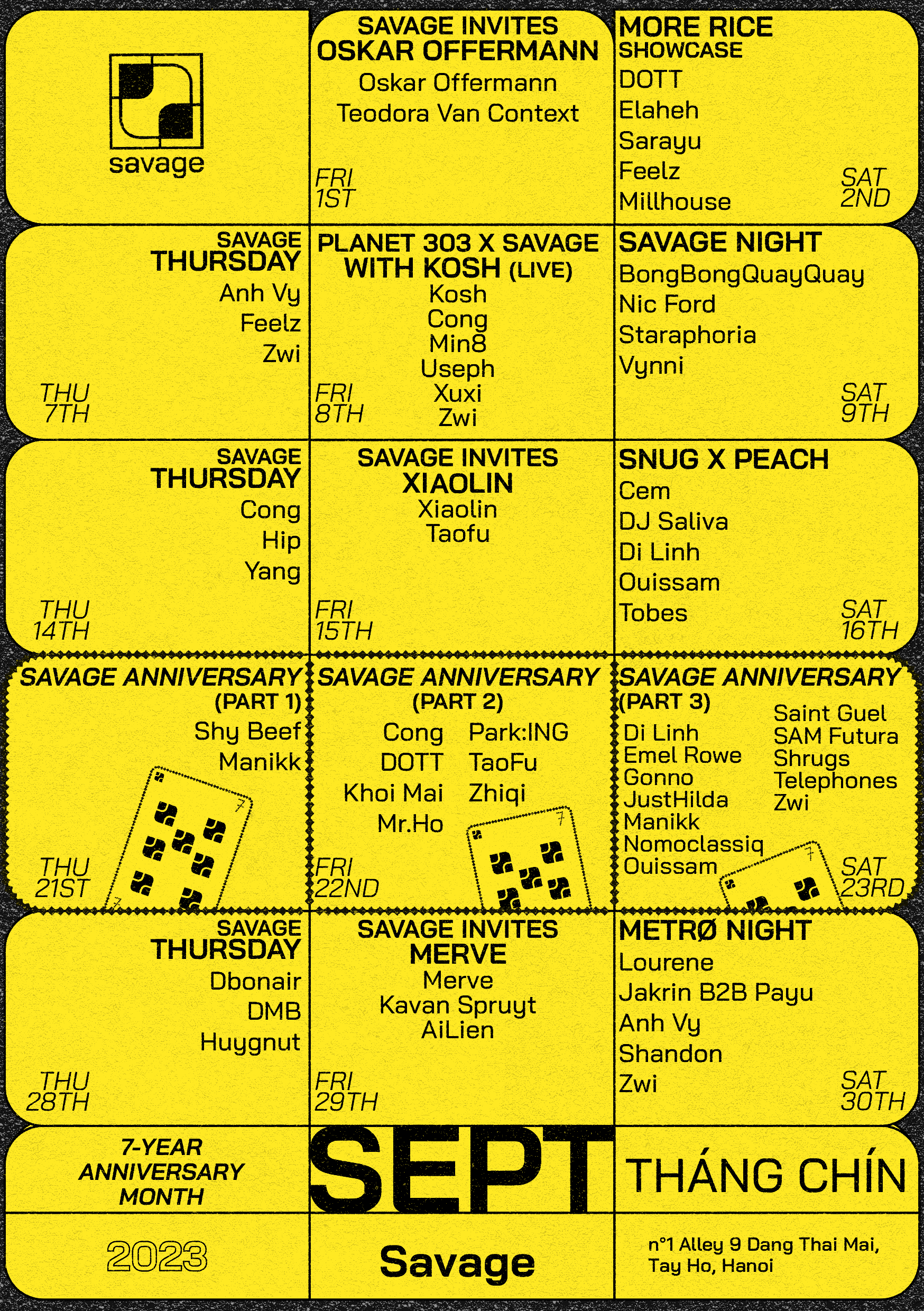 Di Linh
/Vietnamese below/
Emerging from Hanoi, Di Linh is a young artist from Vietnam. Coming from humble beginnings, her musical path has grown expeditiously over the years. The young DJ has been making a name for herself and her mark on the dance floors by using a diverse and colorful music selection. She is also a resident DJ at Savage Hanoi and Equation Festival.
Di Linh flawlessly brings her taste in music from north to south around Vietnam and just made her debut in Europe recently. Each space gives her different inspiration as she is consistently developing herself to ensure the audience falls into a trance whilst also staying true to herself. She knows how to lead audiences emotions into her own story, leaving them with a strong impression after each set through a variety of sounds such as Disco, House, and Techno.
—
Con đường âm nhạc của Di Linh đã phát triển mạnh sau hơn hai năm đánh dấu tên tuổi mình trên những sàn nhạc quanh Việt Nam, với những set nhạc đa dạng và đầy màu sắc. Cô là một resident DJ tại Savage và đồng thời cũng là thành viên tại Equation Festival.
Âm thanh của Di Linh đã mang cô đến các bữa tiệc từ Bắc tới Nam, và gần đây nhất là sự debut của cô tại Châu u. Mỗi địa điểm là một nguồn cảm hứng mới để cô phát triển bản thân, để khán giả luôn phải đu đưa với bản sắc của Di Linh qua những set nhạc đầy Disco, House và Techno.
Manikk
/Vietnamese below/
Resident Dj of Savage, Magic Box Engine label, and organize/founder of Mirage bar and Pulse event.
Born in '91 among the vast open spaces of north Vietnam, the gloomy, atmospheric yet energetic colors and sounds of nature molded Manikk's music and the experiences he crafts on the dance floor. With a mix of house, disco, techno, and electronica, Manikk aims to make deep impressions and bring new concepts of beauty in contemporary music to the audience.
—
Resident DJ tại Savage, nhãn âm nhạc Magic Box Label, người đồng sáng lập kiêm điều hành của Mirage Bar và sự kiện Pulse.
Sinh năm 91, giữa không gian rộng mở của đồng bằng Bắc bộ, Manikk tìm thấy âm nhạc của mình trong không khí âm u, tương phản với những màu sắc và âm thanh sôi nổi xung quanh, và sau đó mô phỏng lại thành những hành trình âm thanh trên sàn nhạc. Pha trộn nhiều dòng nhạc như House, Disco, Techno và Electronica, Manikk muốn tạo ấn tượng mạnh với người nghe, và mang tới cho họ những ý niệm mới về cái đẹp trong âm nhạc đương đại.
Ouissam
/Vietnamese below/
It would be wrong to start talking about where Ouissam Mokretar comes from – after a decade in Asia, he's now something of a regional entity that has managed to change the dance music scene wherever he has laid down roots. His approach to a dance floor is as simple as it is intuitive and elegant: nothing that can make a room shudder with joy is barred from his selections.
As the founder of Hong Kong's Cliche Records, he was one of the first in that city to cultivate a disco-house-techno synthesis that shifted the understanding of what could be danced to there. He went on to create the magnetic Homesick and Fragrant Harbor labels, before suddenly setting his sights on Hanoi in Vietnam, where he has established the dance mecca Savage where he runs the monthly queer night Snug. And on top of all that, he found time to curate the coveted Equation festival, now entering its fourth edition.
But beyond his achievements, you find a DJ with a pure love and appreciation for the power of music, and one that has learnt how to harness this love into something that can be transmitted to his dance floors. Moving effortlessly between disco, house and techno, long-lost gems collide with cutting-edge groove to produce a sonic aesthetic that is simply irresistible.
—
Sau gần 1 thập kỷ sống và làm việc ở Châu Á, Ouissam Mokretar bây giờ đã được nhắc đến như 1 biểu tượng của khu vực này, khi anh đã tạo được ảnh hưởng lớn tới cộng đồng âm nhạc điện tử ở những nơi mình đặt chân. Phong cách chơi nhạc của Ouissam đơn giản, đầy bản năng nhưng không kém phần tao nhã với những track nhạc có thể làm rung chuyển mọi sàn nhảy. m nhạc của anh là sự kết hợp mượt mà giữa disco, techno và house, từ những track nhạc đỉnh cao đã từ lâu "thất truyền" đến những giai điệu "đời mới" nhất.
Với tư cách là người sáng lập Hong Kong's Cliche Records, anh là một trong những người đầu tiên ở thành phố đó phát triển những bản tổng hợp disco-house-techno. Anh tiếp tục tạo ra các nhãn Homesick và Fragrant Harbour, trước khi bất ngờ nhắm đến Hà Nội ở Việt Nam, nơi mà anh đã thành lập thánh địa khiêu vũ Savage, nơi anh điều hành đêm Queer cho tháng của Snug. Và trên hết, anh ấy đã tìm thấy thời gian để quản lý lễ hội Equation đáng mong chờ, hiện đã bước sang lần thứ tư.
Nhưng ngoài những thành tích của anh ấy, bạn còn thấy một DJ có tình yêu thuần khiết và đánh giá cao sức mạnh của âm nhạc, và một người đã học cách khai thác tình yêu này thành thứ có thể truyền đến sàn nhảy của anh ấy. Luân chuyển dễ dàng qua những giai điệu disco, house và techno để tạo ra một thẩm mỹ âm thanh đơn giản là không thể cưỡng lại.
Zwi
/Vietnamese below/
Growing up in Moscow influenced by hip hop and old-school love songs, Zwi finds his personal style resulting in a timeless sound that is as grimy as it is sensual. Expect a face-scrunching blend of dark and groovy from an avid digger showcasing Minimal yet
Progressive House, UKG, Techno, and Electro.
Zwi is currently a resident DJ at Hanoi-based Savage and pushes the local underground scene through METRØ.
—
Lớn lên tại Moscow, được truyền cảm hứng bởi văn hoá hiphop và những bản tình ca old-school, Zwi đã khám phá được phong cách cá nhân của mình dẫn đến 1 thứ âm hưởng vượt thời gian, mang lại cảm xúc buồn tẻ nhưng đầy gợi cảm. Hãy đón chờ Zwi sẽ mang lại sự pha trộn hoàn hảo trong bầu không gian tối tăm mà vui nhộn, giới thiệu những set Minimal Progressive House, UKG, Techno và Electro đặc trưng.
Zwi hiện đang là Resident DJ tại Savage và tích cực đóng góp vào những hoạt động thúc đẩy bối cảnh underground bản địa thông qua METRØ.
Barry Sunset
 Barry Sunset is a founding member of cult Melbourne party, Spin Club, held monthly at the infamous Mercat Basement in Melbourne, Australia.
Since it's demolition he has gone on to create the eclectic About Love podcast, and his own Australiana fishing themed side-stage and bar at Hopkins Creek Festival - Barry's Bait Shop.
Deejaying since a young age has seen him hone his selections from countless hours behind the booth and is now a local hero treasured by the party-people of Melbourne.
Now based in Hanoi, Vietnam he is producing some sneaky dancefloor edits, running his own Sunset Sounds imprint and has his sights on the dance floors of south-east Asia and beyond.
Khoi Mai
/Vietnamese below/
Khoi Mai, a Saigon raised music lover who spent a few years on the road before returning to what would be an even more exciting adventure in his homeland. Khoi Mai is the current resident DJ of The Observatory, Savage and Lien Hoan. Hanoi is where he resettled in 2018, and it didn\'t take long for the musically-versed folk at underground hub Savage to lock him down as one of their key residents. Playing at many local clubs and festivals comes with its fair share of prerequisites, but mostly loosely termed around one\'s commitment and testimony to being a purveyor of good vibes and depth of selection. Khoi Mai presents a fun and light-hearted attitude to dance music with eclectic selections and a dreamy, percussive sound. Moving smoothly between genres, Khoi Mai puts his personality and influences to use on any dance floor he's put in control of, with constant grooves, surprises and delights.
—
Khôi Mai là người Sài Gòn, hiện là resident DJ The Observatory, Savage và Liên Hoan. Hà Nội đem lại cho anh nhiều nguồn cảm hứng âm nhạc khi anh từ Mỹ quyết định quay về Việt Nam vào năm 2018. Khôi Mai nhanh chóng xây dựng con đường âm nhạc tại nơi đây và là một trong những nhân vật chủ chốt trong hầu hết các bữa tiệc và lễ hội âm nhạc lớn từ Bắc chí Nam. Khả năng của Khôi nhuần nhuyễn với nhiều dòng nhạc khác nhau như Disco, House, Techno kể cả Hiphop. Khôi Mai sử dụng cá tính và tuyển chọn nhiều bản nhạc chiết trung của mình trên bất kỳ sàn nhảy nào mà anh ấy điều khiển với màu sắc âm nhạc vui tươi, bay bổng.
Park:ING
Bringing diversity to the decks as an avid dancer, organiser and a DJ, park:ING started off through playing at small house parties in Saigon, and quickly grew into a regular at clubs and biggest parties in the Vietnam.
This led him to begin organising events with friends, most notably are GenderFunk collectives and later on Lien Hoan party series, both breakthrough collectives in Vietnam promoting diversity, Vietnamese Identity and freedom in music.
From long-lost rare gems to powerful old school house to the ever-growing and elevating sides of electronic sounds. Park has grown to convey his emotions through music, adapt, accommodate and surprise many dance floors.
He is currently a resident of the Observatory, Genderfunk, and Savage Hanoi
Janko
Born and raised in Belgrade, Serbia where he got in first touch with electronic music. Based in Vietnam for the last 5 years, as a Savage and Mirage resident & team-mate of Equation festival, he likes to keep finger close to the pulse of the underground music community, where he had a chance to take part in the organisation of underground culture events.
Lately, he had the experience to go on tour in various European & Asian countries and focus on expanding his vinyl collection.
A music enthusiast - Janko spent a significant amount of time gathering up his collection of smooth and delicate electronic gems with no restriction for style, mood or era. He nurtures a sound that is both distinctive and abstract, constantly trying to adapt to the crowd with a colorful music palette, moving seamlessly through the obscure house, electro, techno & other various genres. His playful experimentation resonates with the positive expression of groovy and light elements.
CONG
Vietnamese Below
CONG started to research Electronic music and DJ-ing as a hobby when he was 22 years old and officially had a debut show in 2017 in his homeland: Hanoi, Vietnam. His early passion for music and voracious research into genres, labels, and producers led him to become a resident DJ and also a producer at Half.half (a local Hanoi event founded by Min8). 
Till this day, CONG often plays in familiar venues like MIRAGE, The Warehouse, Savage, BirdCage, Smack Dab, to name a few, as well as local events and festivals by HUM, Half.Half, Studio Adventure, Sunlit, and Equation, playing alongside talented DJs namely Ouissam Mokretar, Min8, Quan, etc.
 CONG has been introducing his taste of music around Vietnam, from local parties in Ha Noi to Sai Gon, Da Nang, Phu Quoc. His DJ sets are harmonic mixtures of different genres, ranging from house, techno, disco, break, and DnB. His flexibility in transcending genres and formats, digital or vinyl, allow him to create a diverse range of vibes and soundscapes.
***
CONG bắt đầu tìm hiểu nhạc điện tử và DJ như một thú vui năm 22 tuổi, và chính thức có show ra mắt vào năm 2017 tại quê hương Hà Nội. Đam mê âm nhạc từ sớm, cùng với công sức tìm hiểu sâu về các thể loại, các hãng đĩa và producer, anh hiện đã trở thành resident DJ và producer tại Half.half (một sự kiện tại Hà Nội được Min8 sáng lập). 
CONG thường chơi tại những địa điểm quen thuộc như MIRAGE, The Warehouse, Savage, BirdCage, Smack Dab, cũng như các sự kiện và nhạc hội HUM, Half.Half, Studio Adventure, Sunlit, and Equation. Anh đã DJ cùng những tên tuổi DJ như Ouissam Mokretar, Min8, Quan, etc.
Gu âm nhạc của CONG đã đi khắp các miền Việt Nam, ở các bữa tiệc tại Hà Nội, Sài Gòn, Đà Nẵng và Phú Quốc. Các set nhạc của anh hoà hợp nhiều thể loại từ house, techno, disco, break và DnB. Sự linh hoạt giữa các thể loại, giữa các format nhạc số hay đĩa than, là cách CONG tạo ra nhiều không khí và âm hưởng đa dạng.
TaoFu
Vietnamese Below
TaoFu has been a regular dancer & music lover for the underground beats since day one. She has attended many events in Vietnam before actually stepping into the game and becoming a DJ.  Having only started DJing  in 2020, TaoFu has already gained significant recognition for her skills, which have earned her a resident DJ tittle at The Observatory Saigon and also a member of ATIPIK Collective.
Her DJ sets pull selections from House, Electro, & Techno genres, aiming to deliver an unpredictable sound experience for all music lovers. Expect the unexpected when TaoFu steps into the booth.  
 ***
TaoFu là một thành viên mới của đội Atipik. Dù chỉ mới bắt đầu sự nghiệp DJ năm 2020 nhưng cô đã giành được sự ưu ái và công nhận bởi kỹ năng của mình. Đó cũng chính là lý do cô được nhận vào làm DJ chính thức của hộp đêm The Observatory.
Âm nhạc của cô có 3 thể loại chủ đạo là House, Techno và Electro với mong muốn đem đến cho khán giả những âm thanh độc đáo. Hãy chờ đợi sự bất ngờ mà TaoFu sẽ mang tới khi cô đứng trên sân khấu.